Posts for category: Uncategorized
By Dr. Andrew J. Molak, DMD
April 23, 2020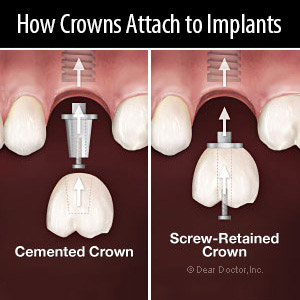 In the realm of restorative dentistry, dental implants are king. A dental implant can replace a tooth with a permanent, life-like restoration with a solid reputation for durability.
Implants are also known for one other quality — variety. Not all implants are alike, and they have varied applications for use. Available in various shapes and sizes, they can be used for a single tooth or as part of a multiple tooth bridge or overdenture. And while their basic architecture is the same, you also have two options for how the permanent crown (the visible tooth portion) attaches to the implant: screwed or cemented.
A screw attachment can securely fasten a crown to an implant without the need for cement; it also allows for easy removal for repair or replacement should the crown become damaged or worn. On the other hand, it could pose a cosmetic problem — even though the access hole for the screw may be covered with a tooth-colored filling, it could still be distinguishable from the rest of the crown. There's also a slight risk of the crown chipping around the access hole.
A crown cemented to the implant won't have this cosmetic issue with an access hole, and will look just like a natural tooth. But unlike a screwed crown, removing a cemented crown can be more difficult. The cement may also cause gum inflammation and potential bone loss in sensitive patients.
The condition of your mouth, the type of implant you're receiving and other circumstances will all factor into determining which method is best for you. If we're "immediately loading" the crown (meaning we're affixing a temporary crown to the implant immediately after placement in the jaw), then the screw method may be more advantageous. Aesthetically speaking, though, a cemented crown may be a better option in terms of final smile appearance.
But whichever method is used, you'll still benefit from what implants do best — help you regain the function lost from a missing tooth and change your smile for the better.
If you would like more information on your options with dental implants, please contact us or schedule an appointment for a consultation. You can also learn more about this topic by reading the Dear Doctor magazine article "How Crowns Attach to Implants."
By Dr. Andrew J. Molak, DMD
May 24, 2018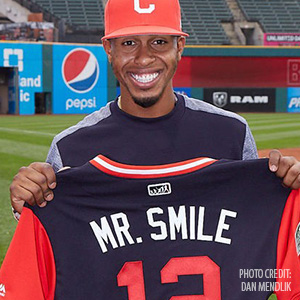 At the first-ever Players Weekend in August 2017, Major League Baseball players wore jerseys with their nicknames on the back. One player — Cleveland Indians shortstop, Francisco Lindor — picked the perfect moniker to express his cheerful, fun-loving nature: "Mr. Smile." And Lindor gave fans plenty to smile about when he belted a 2-run homer into the stands while wearing his new jersey!
Lindor has explained that he believes smiling is an important part of connecting with fans and teammates alike: "I've never been a fan of the guy that makes a great play and then acts like he's done it 10,000 times — smile, man! We've got to enjoy the game."
We think Lindor is right: Smiling is a great way to generate good will. And it feels great too… as long as you have a smile that's healthy, and that looks as good as you want it to. But what if you don't? Here are some things we can do at the dental office to help you enjoy smiling again:
Routine Professional Cleanings & Exams. This is a great place to start on the road toward a healthy, beautiful smile. Even if you are conscientious about brushing and flossing at home, you won't be able to remove all of the disease-causing dental plaque that can hide beneath the gum line, especially if it has hardened into tartar, but we can do it easily in the office. Then, after a thorough dental exam, we can identify any problems that may be affecting your ability to smile freely, such as tooth decay, gum disease, or cosmetic dental issues.
Cosmetic Dental Treatments. If your oral health is good but your smile is not as bright as you'd like it to be, we can discuss a number of cosmetic dental treatments that can help. These range from conservative procedures such as professional teeth whitening and bonding to more dramatic procedures like porcelain veneers or crowns.
Tooth Replacement. Many people hide their smiles because they are embarrassed by a gap from a missing tooth. That's a shame, because there are several excellent tooth-replacement options in a variety of price ranges. These include partial and full dentures, bridgework, and dental implants. So don't let a missing tooth stop you from being Mr. (or Ms.) Smile!
If you'd like more information about oral health or cosmetic dentistry, please contact us or schedule an appointment for a consultation. You can also learn more by reading the Dear Doctor magazine articles "Beautiful Smiles by Design" and "The Impact of a Smile Makeover."
By Dr. Andrew J. Molak, DMD
January 21, 2018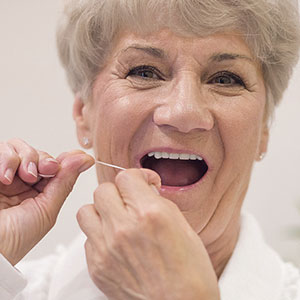 Dental implants can do more than replace individual teeth — a few well-placed implants can support other restorations like a fixed bridge. The natural integration that occurs between the bone and the implant's titanium post creates a strong, durable hold for both implant and the supported restoration.
But if a bone-implant connection weakens, the implant could be in danger of failing. This can occur because of periodontal (gum) disease caused by dental plaque, a thin film of built-up food particles and bacteria on the teeth. Untreated, the infection can ultimately spread from the gums to the bone and cause it to diminish in volume. If the bone loss occurs around an implant the threaded surface of the post may be exposed, inviting more plaque buildup. This can trigger more bone loss and eventually implant failure.
That's why you must brush and floss daily to remove plaque on and around your fixed bridge just as you do your natural teeth. Brushing around a bridge could be difficult with a traditional brush, so you may want to use an interproximal brush designed for just such situations. Be sure any utensil you use contains only plastic parts — metal creates microscopic scratches in the restoration materials that could harbor plaque.
You should also floss between the bridge and gums as well as between any natural teeth. While this can be difficult with traditional flossing methods, there are some tools to make it easier.
One is a floss threader, a small tool with a loop on one end and a stiff plastic edge on the other. With floss threaded through the loop, you gently guide the edged end between the bridge and gums. Once it passes through, you wrap the two ends of the floss with your fingers as you would normally and work it along each side of the nearest implants.
You can also use pre-cut floss sections with stiffened ends to pass through the gap, or an oral irrigator that loosens and flushes away plaque with a pressurized water stream. Just be sure you flush debris away from the gum and not toward it.
Keeping all surfaces of your implant-supported bridgework clean of plaque is necessary for its longevity. Be sure you also visit your dentist regularly for more thorough cleanings.
If you would like more information on oral hygiene with dental implants, please contact us or schedule an appointment for a consultation.